The Purchase College Foundation  Board Investment Committee takes a long-term approach in the investment and active management of the Foundation's endowment. 
InvestorForce, a leading third-party firm, has ranked the Purchase College Foundation & Charitable Entities first among educational institutions of its size on the basis of investment performance.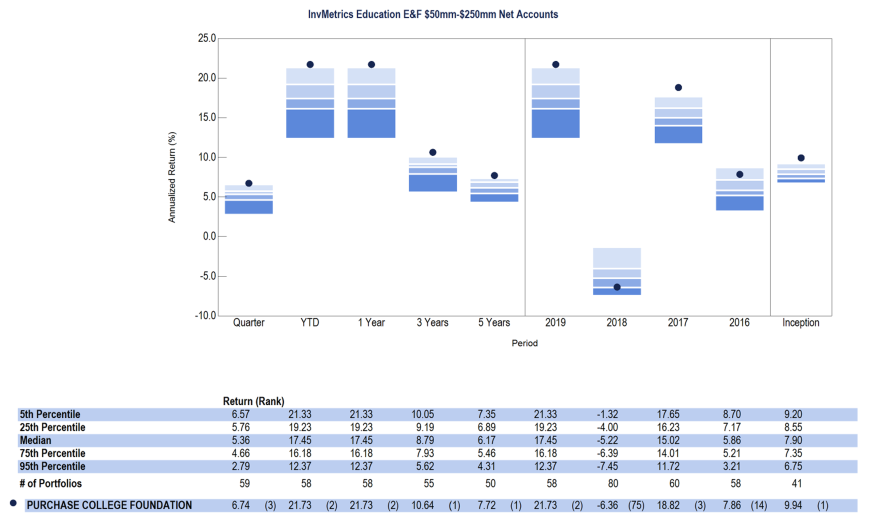 Chart data as of December 31, 2019 

Foundation Asset Allocation Targets
The Foundation Board has an established policy to achieve investment diversification. This policy defines the target investment of each asset allocation category as well as when assets should be rebalanced. The Board's Investment Subcommittee reviews the asset allocation on a regular basis and takes appropriate action as necessary.
| | |
| --- | --- |
| Publicly traded equities | 30% to 85% |
| Fixed income securities | 10% to 50% |
| Illiquid investments | 0% to 25% |
| Cash and cash equivalents | 0% to 20% |
Investment Philosophy
The primary long-term objective for the Foundation is to preserve the real purchasing power of the Foundation with a reasonable level of risk. A secondary goal will be to grow the real purchasing value of the Foundation over the long-term. Consistent with that objective, the primary investment goal for the Foundation will be to earn an average annual return equal to or greater than the annual spending rate policy for the Foundation plus the rate of inflation (as measured by the consumer price index or another appropriate index selected by the Investment Committee), net of all fees, including investment management and related fees and expenses, over a market cycle (generally defined as rolling five-year periods).