We've heard this statement over and over again since the pandemic hit. That's because it's true.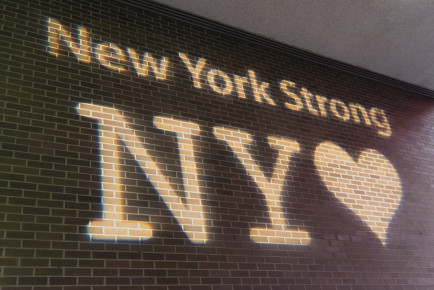 Light projection at The Performing Arts Center, which is serving as a Covid testing site for faculty, students, and staff.
In order to mitigate the spread of the coronavirus, we all need to be responsible for ourselves and our surroundings. That means we protect each other by wearing face coverings, keeping our work areas clean, and staying six feet apart. And, of course that means washing our hands often.
Faculty and staff might be asked to do things like never before, including wiping down doorknobs or emptying garbage cans. Or maybe to wait awhile for facilities to fix non-emergency issues. Patience and understanding will go a long way.
The Purchase College ethos has always embraced a sense of shared community; we pitch in when there's a need. As we return to campus, let's put that ethos into action again as we take steps to keep our community healthy.
Policies and Procedures
Updated Mask Policy

As we start the fall semester, please read and familiarize yourself with the revised mask policy. This policy will be in place until further notice. Thank you for your cooperation as we work together to keep our community safe.

All persons on campus are required to:

Have a face covering available at all times and be considerate of the health concerns of community members.

Cover the nose and mouth with a face covering when inside campus buildings with the exception of when you are in your assigned residence, alone in your office or while eating / drinking.

Unvaccinated or partially vaccinated individuals must wear a mask and maintain six feet social distancing from those outside their residence in both indoor and outdoor settings.

Face coverings should:

Fit snugly but comfortably against the face covering both nose and mouth

Be secured with ties or ear loops

Include multiple layers of fabric allow for breathing without restriction

Those who are unable to wear face coverings due to a medical or other health condition should consult with the appropriate campus offices (Human Resources for state employees, the Office of Disability Resources for students and designated campus contacts for contractors, volunteers, permitees, and campus visitors) to discuss reasonable accommodations.

Campus contacts for permitees and visitors shall consult with the Continuation of Programs and Services Public Health Committee for guidance by emailing stayhealthy@purchase.edu.

Failure to Comply & Campus Enforcement

Interactions with those failing to comply should be viewed as a public health educational opportunity. We are asking all members of our community to do their part. Persons not wearing a face covering or maintaining social distancing should be asked to comply.

Failure to comply may result in the following actions:

For students, it may result in a report being filed with the Office of Community Standards. Upon review, the student may receive notice of disciplinary action.

For employees, it may result in referral to Human Resources for review and resolution in accordance with their collective bargaining agreement, including disciplinary action or up to and including termination. Employees are required to adhere to the above policy requirements in all instances except where doing so would inhibit or otherwise impair the employee's health. Employees who are unable to wear face coverings due to a medical or other health condition should must consult with the Access and Reasonable Accommodation Officer, Ricardo Espinales, Associate Director of Human Resources at (914) 251-6086 to discuss reasonable accommodations.

For visitors, permitees, revocable permit holders, and contractors, it may result in removal of authorization to be on campus property and/or termination of the applicable lease/permit/contract.

In the event of an emergency situation, UPD can be contacted via telephone at (914) 251-6911.

Reporting

Keep reading

announcement

»




Surveillance Testing

Fall 2021 Semester:

Testing for all unvaccinated employees:

Mondays: 10:00am - 12:30pm, Red Room, Student Services Building
Tuesdays: 10:00am - 12:30pm, Red Room, Student Services Building
Wednesdays: 2:00 - 4:30pm, Red Room, Student Services Building
Thursdays: 2:00 - 4:30pm, Red Room, Student Services Building

Please note: schedules are subject to change on holidays.

All employees must be registered with SUNY Upstate Laboratory to participate in the pooled testing.

If you have not participated in testing you must go to www.suny-covid-test.com to register before coming to the testing site. You will need to enter your demographics and your health insurance information.

Any updates to the testing requirements will be shared via campus broadcast.

Thank you again for your cooperation in helping to provide and maintain a healthy and safe campus environment.

---

How to Upload Your Vaccination Card

As previously mentioned in an HR broadcast email sent out on 5/27/2021 (Updated COVID-19 Pool Testing Procedures), HR was working with CTS to create a way to upload vaccination cards into HRETS (Human Resources Employee Tracking System). HRETS has been updated and employees are now able to upload their vaccination cards. Within HRETS, the vaccination card can be uploaded to your Employee Data Sheet (EDS).

To upload your vaccination card, first scan and upload your vaccination card to your computer. If you already provided your vaccine information, you do not need to upload it into HRETS. To access HRETS and the EDS, please follow these steps:

Click on the Personnel and Employment Tab
Click the HRETS Link
Enter your PC user name and password to access HRETS.

Once you access HRETS:

Click on the Employee Datasheet​ link listed under the Personnel ETS Options (bottom left). Your own Employee Datasheet will open.
Review all of your personal data listed under each tab to ensure that it's correct and up-to-date (especially Demographics, Degree and Emergency Information). Please make sure to save your edits.
Click the COVID Vaccine Document Tab
Click Choose File and upload your vaccination card
Please enter a file description
Click Save File



Don't forget that once you provide proof, you are no longer required to participate in weekly surveillance testing during the summer. You also have the option to bring your vaccination card to the test site or show the Excelsior pass. The Excelsior pass is free to download.

Individuals who are not fully vaccinated are required to test weekly. All employees who are not fully vaccinated and report to campus at least once a week are required to participate in testing as they have been.

The Daily COVID Screening is still required to be completed on workdays/obligation days.

Thank you for adhering to our health and safety requirements.

Keep reading

announcement

»




Vaccinated Persons With an Exposure to COVID-19

Vaccinated persons with an exposure to someone with suspected or confirmed COVID-19 are not required to quarantine if they meet all of the following criteria:

Are fully vaccinated (i.e., ≥2 weeks following receipt of the second dose in a 2-dose series, or ≥2 weeks following receipt of one dose of a single-dose vaccine)
Have remained asymptomatic since the current COVID-19 exposure
Get tested 5-7 days after the date of your exposure
Wear a mask in public indoor settings for 14 days after exposure or until a negative test result

Keep reading

announcement

»



Screening and Testing
All students, faculty, and staff are required to conduct daily health screenings to identify symptoms, including temperature checks.
Upon evaluation by your health care provider, it will be determined if testing is appropriate if you are experiencing symptoms or have had an exposure.
Contact Tracing
Contact tracing is the responsibility of the Westchester County Department of Health. The college will have four staff trained and dedicated to contact tracing in close coordination with state and local health departments.
Cleaning
Enhanced cleaning and disinfecting is critical to reducing the spread of COVID-19. New procedures in place are in accordance with New York State Department of Health regulations, CDC recommendations, and guidance available from safety and industry associations.
Routine cleaning such as vacuuming, removing trash, or sweeping may be performed less frequently to allow for increased cleaning and disinfecting of frequently touched surfaces including door knobs, light switches, handrails, and public restrooms. 
Shared Cleaning Responsibility
Everyone on campus should use provided disinfectant wipes or spray frequently to disinfect high-touch surfaces in their own work space or shared spaces. This includes instructors and students in classrooms.
Mental Health
The need for self-care cannot be underestimated or ignored in the face of the challenges of navigating life in a pandemic. Seek help when you need it. Pace yourself and practice mindfulness as you balance COVID circumstances with your performance goals. Be flexible and open to the possibility you may need to slow down or reach out for support.