We've heard this statement over and over again since the pandemic hit. That's because it's true.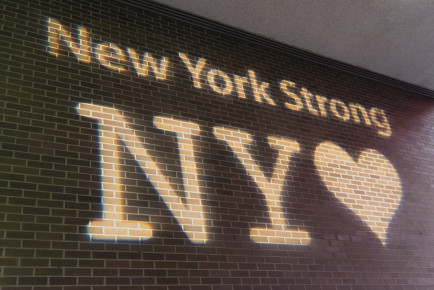 Light projection at The Performing Arts Center, which is serving as a Covid testing site for faculty, students, and staff.
In order to mitigate the spread of the coronavirus, we all need to be responsible for ourselves and our surroundings. That means we protect each other by wearing face coverings (in accordance with current policy) and keeping our work areas clean. And, of course that means washing our hands often.
Faculty and staff might be asked to do things like never before, including wiping down doorknobs or emptying garbage cans. Or maybe to wait awhile for facilities to fix non-emergency issues. Patience and understanding will go a long way.
The Purchase College ethos has always embraced a sense of shared community; we pitch in when there's a need. As we return to campus, let's put that ethos into action again as we take steps to keep our community healthy.
Policies and Procedures



The Human Resources Employee Tracking System has been updated and employees are able to upload their vaccination cards. Within HRETS, the vaccination card can be uploaded to your Employee Data Sheet (EDS).

To upload your vaccination card, first scan and upload your vaccination card to your computer. If you already provided your vaccine information, you do not need to upload it into HRETS. To access HRETS and the EDS, please follow these steps:

Click on the Personnel and Employment Tab
Click the HRETS Link
Enter your PC user name and password to access HRETS.

Once you access HRETS:

Click on the Employee Datasheet​ link listed under the Personnel ETS Options (bottom left). Your own Employee Datasheet will open.
Review all of your personal data listed under each tab to ensure that it's correct and up-to-date (especially Demographics, Degree and Emergency Information). Please make sure to save your edits.
Click the COVID Vaccine Document Tab
Click Choose File and upload your vaccination card
Please enter a file description
Click Save File



Thank you for adhering to our health and safety requirements.

Keep reading

announcement

»





Mental Health
The need for self-care cannot be underestimated or ignored in the face of the challenges of navigating life in a pandemic. Seek help when you need it. Pace yourself and practice mindfulness as you balance COVID circumstances with your performance goals. Be flexible and open to the possibility you may need to slow down or reach out for support.
Students interested in confidential support may call (914) 251-6390 for counseling with the on campus mental and behavioral health staff. Faculty and staff seeking referrals or assistance may contact the Employee Assistance Program. Anyone struggling with the impact or aftermath of COVID-related difficulties may contact New York Project Hope helpline and resources.