We've heard this statement over and over again since the pandemic hit. That's because it's true.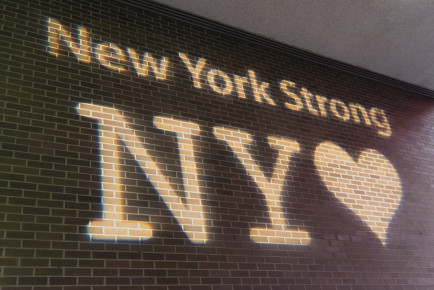 Light projection at The Performing Arts Center, which is serving as a Covid testing site for faculty, students, and staff.
In order to mitigate the spread of the coronavirus, we all need to be responsible for ourselves and our surroundings. That means we protect each other by wearing face coverings, keeping our work areas clean, and staying six feet apart. And, of course that means washing our hands often.
Faculty and staff might be asked to do things like never before, including wiping down doorknobs or emptying garbage cans. Or maybe to wait awhile for facilities to fix non-emergency issues. Patience and understanding will go a long way.
The Purchase College ethos has always embraced a sense of shared community; we pitch in when there's a need. As we return to campus, let's put that ethos into action again as we take steps to keep our community healthy.
Outdoor Mask Zones
Masks are required in all outdoor areas of the plaza and residential areas. The following map details the outdoor areas in which masks are required:
Policies and Procedures
Visitor Policy

In an effort to limit campus density and promote health and safety, a number of updates to our campus visitor policy have been implemented. This policy was created to ensure that visitors adhere to campus mitigation measures in order to prevent the spread of COVID-19. This procedure will remain in effect until further notice.

Summary

Purchase College facilities and buildings are open only for official college business and are not open to the general public.
Students who are studying remotely will be granted access to campus from 8:00am - 8:00pm daily.
Visitors will be permitted access to academic buildings provided they have been invited by a host and preregistered.

Definitions

Visitors are defined as any individual who require essential access to campus facilities and is not an employee (faculty or staff), a currently enrolled student, or a campus resident. Employees of certain vendors, contractors, volunteers, tenants, and other groups are considered visitors.

Campus Host is a college office/department, employee, or registered student organization requiring or inviting a visitor to come on campus.

Remote Student Registration Process and Responsibilities

On the date of the planned visit, remote students must complete the college's COVID-19 Health Screening Tool located on the student portal or by visiting the link. The health screening mirrors our daily face to face student and employee screening. The tool will instruct students who report experiencing symptoms to contact Student Health Services before coming to campus.

Remote Students must park in the W1 Parking Lot and proceed to the CMFT Lobby for check-in. A campus greeter (work-study) will be available at the lobby from 7:00am - 5:00pm M-F to complete the check in process. After hours, students should have their confirmation email readily available for inspection by campus staff.

Remote Students who visit campus will be required to follow health and safety protocols adopted by the college and as required by federal, state, or local regulations. This includes self-monitoring of COVID-19 symptoms before coming on campus and completing the college's health screening survey; complying with the college's face-covering policy and social distancing requirements; and regular handwashing and sanitizing while on campus.

Note: Students who plan to visit campus regularly must participate in campus pooled testing. If you intend to visit campus at least once per week, please notify Health Services at hse@purchase.edu to be scheduled for pooled testing.

Visitor Registration Process and Responsibilities

Visitors must be pre-registered by a Campus Host. The Campus Host will be responsible for forwarding an email to visitor.registration@purchase.edu, the host will receive a response with instructions to complete the registration process which includes a link to the college's COVID-19 Health Screening Tool to be provided to each visitor. Visitors must complete the campus Health Screening Tool the morning of their appointment. The health screening mirrors our daily student and employee screening. The Tool will instruct visitors who report experiencing symptoms to please contact the host to reschedule their appointment. V

isitors must park in the W1 Parking Lot and proceed to the CMFT Lobby for check-in. A campus greeter (work-study) will be available at the lobby from 7:00am - 5:00pm M-F to complete the check in process.

Visitors permitted on campus will be required to follow health and safety protocols adopted by the college and as required by federal, state, or local regulations. This includes self-monitoring of COVID-19 symptoms before coming on campus and completing the college's health screening survey; complying with the college's face-covering policy and social distancing requirements; and regular handwashing and sanitizing while on campus. Visitors will receive campus policies electronically following the completion of the health screening survey.

Related Visitor Procedures

Institutions and offices on campus such as the Facilities Management, Neuberger Museum, Chartwells, The Performing Arts Center, and Athletics may in some cases operate with slight variations to this procedure due to specific guidance from associations, insurance companies and contractual obligations.

Persons who utilize outdoor areas of the campus to jog and bicycle are not considered visitors and are restricted to the roadways and trails on campus only. Residential and Academic areas are strictly of limits and posted no trespassing signs must be adhered to.

Guest are not allowed in student residential spaces.

Keep reading

announcement

»




Social Distancing and Face Covering Policy

In response to the COVID-19 pandemic and future pandemics, Purchase College has adopted a Social Distancing and Face Covering policy. This policy highlights the protections that are required and implemented to ensure the health and safety of our campus community including students, faculty, staff, visitors, and contractors.

Persons Required to Follow the Policy

All people entering campus for any reason must follow the Policy for Social Distancing and Face Covering.This includes but is not limited to faculty, staff, students, volunteers, vendors, contractors, permitees, employees of related entities including but not limited to Purchase College Association, Research Foundation and all other visitors to the campus.

Policy Statement and Specifics

In the event of an outbreak of a highly infectious and/or deadly disease, including a pandemic, Purchase College may implement measures aimed at limiting the transmission of highly infectious disease through social distancing. Decisions regarding social distancing and other mitigation measures for an outbreak of influenza or other highly contagious diseases will be guided by such factors as the epidemiology of the disease, its response (if any) to anti-viral or other medications, the availability of effective medications and vaccines, specific at-risk groups, proximity of confirmed infection to a particular locale, and other factors.

The College President, in consultation with the Campus Emergency Response Team along with other related campus offices will determine the appropriate level of social distancing measures or other corrective measures to employ. Federal, state, and local governing authorities may provide guidance in making the determination, and those authorities are likely to follow guidelines and recommendations of the Center for Disease Control (CDC), World Health Organization (WHO), and Department of Health (DOH). In addition to social distancing, additional measures such as donning of personal protective equipment (PPE) may be implemented.

COVID-19 Pandemic Specific Policy

 

A. As recommended by the CDC and the New York State Guidelines, all people entering campus for any reason are required to:

Adhere to social distancing restrictions
Have a face covering available at all times and be considerate of the health concerns of community members.
Wear face coverings when in direct contact with members of the public. Cover the nose and mouth with a face covering when inside campus buildings with the exception of when in your assigned residence or alone in your office.
While dining in public, persons are required to maintain a distance of six feet.
Face coverings are always required when outdoors within the plaza and all residential areas.
In other outdoor areas beyond the plaza and residential areas, masks are also required if you are unable to maintain a social distance of more than six feet.

B. Both cloth and disposable face coverings are acceptable however, face coverings with exhalation valves are not permitted.

Cloth face coverings should:

fit snugly but comfortably against the face covering both nose and mouth
be secured with ties or ear loops
include multiple layers of fabric
allow for breathing without restriction
be able to be laundered and machine dried without damage or change to shape
stored properly when not in use to prevent damage or contamination

C. Those who are unable to wear face coverings due to a medical or other health condition should consult with the appropriate campus offices (Human Resources for state employees, the Office of Disability Resources for students and designated campus contacts for contractors, volunteers, permitees, and campus visitors) to discuss reasonable accommodations.Campus contacts for permitees and visitors shall consult with the Continuation of Programs and Services Public Health Committee for guidance.

D. Failure to Comply & Campus Enforcement

Interactions with those failing to comply should be viewed as a public health educational opportunity, we are asking all members of our community to do their part.Persons not wearing a face covering or maintaining social distancing should be asked to comply.

Failure to comply may result in the following actions:

For students, it may result in a report being filed with the Office of Community Standards.Upon review, the student may receive notice of disciplinary action, which could result in their removal from campus (suspension or expulsion).Additionally, residential students may be removed from on-campus housing through the Office of Community Engagement Residence License Agreement.
For employees, it may result in referral to Human Resources for review and resolution in accordance with their collective bargaining agreement, including disciplinary action or up to and including termination. Employees are required to adhere to the above policy requirements in all instances except where doing so would inhibit or otherwise impair the employee's health. Employees who are unable to wear face coverings due to a medical or other health condition should must consult with the Access and Reasonable Accommodation Officer (Ricardo Espinales, Associate Director of Human Resources, (914) 251-6086 to discuss reasonable accommodations.
For visitors, permitees, revocable permit holders and contractors, it may result in removal of authorization to be on campus property and/or termination of the applicable lease/permit/contract.
In the event of an emergency situation UPD can be contacted via telephone at (914) 251-6911.

E. Reporting and Enforcement

Criteria for violations of this procedure are subject to a continued New York State Disaster Declaration and Executive Orders of the Governor of the State of New York. Violations may be reported as indicated above.
On campus general complaints can be emailed to: stayhealthy@purchase.edu, employee related: HRM.Director@purchase.edu, student related: SAF.conduct@purchase.edu
New York State maintains a hotline for non-essential gathering complaints: (833) 789-0470.
In the event of an emergency or crime in progress, call University Police: (914) 251-6911

F. Definitions

Social Distancing: "physical distancing," means keeping space between yourself and other people by staying at least 6 feet from other people, not gathering in groups, staying out of crowded places and avoiding mass gatherings of any size.

Personal Protective Equipment (PPE): is equipment worn to minimize exposure to hazards that cause serious workplace injuries and illnesses. Personal protective equipment may include items such as gloves, safety glasses, respirators, or face coverings.It is important to note that PPE does not eliminate exposure to the virus, it can help prevent exposures by acting as a barrier between the wearer and the hazard, in this case the virus.

Public Place (for purposes of this policy): shall mean buildings, grounds, and while in the process of transporting someone from one place to another or being transported such as a campus shuttle.Drivers are responsible for disinfecting the vehicle after each use.

G. Responsibilities

All campus community members (students, faculty, staff, visitors, etc.): have a personal responsibility to adhere to this procedure to ensure the safety of all community members. Being personally responsible means you take ownership of what you do and how it may impact others.

H. Related Procedures

Public Space Implementation

Facilities, Student Affairs, Academic Affairs, Environmental Health and Safety, and Events Management are responsible for the implementation of this procedure.

The following areas and spaces will adopt the following practices while social distancing:

General Building Occupancy: Occupancy will be adjusted to limit the number of people allowed on an academic building floor at one time and so no more than an appropriate number of classes are scheduled on the same floor at one time
Classrooms, Lecture Halls, Science Labs, and Other Meeting Spaces: The maximum occupancy will be adjusted to accommodate social distancing. Occupancy changes will be coordinated with the Registrar to appropriately adjust maximum course attendance.
Class start times will be slightly staggered to reduce hallway occupancy.
Dining Areas: Maximum occupancy will be adjusted accordingly and carry out services will be provided only until restrictions have been modified.
Residence Halls: Common areas and lounges in the residence halls are currently closed. Additional housing conditions have been imposed as part of the housing agreement, including but not limited to restrictions regarding visitors/guests to campus residences. Resident students should carefully read their Residence License Agreement and any addendums. Violations to COVID restrictions such as the visitor policy, may result in separation from the college for up to an academic or calendar year.
Residential Buildings will be closed to visitors.
Elevators: Use of elevators will be at a limited capacity, and persons should wear a face covering at all times.
Stairwells: Campus building stairwells in some cases may have one-way traffic. Community members must comply with posted signage.
Entrances/Exits: Campus building entry and egress routes may be separated in some cases.Community members must comply with posted signage.
Reception Areas: Where physical barriers are not already in place, such as glass partitions, visual aids may be present to mark a 6 foot distance.
General Spaces: Maximum occupancy will be adjusted accordingly, and furniture will be limited to single seating only.
Restrooms: Occupancy may be modified to promote social distancing.Use of restrooms with multiple stalls should be limited based on room size to ensure at least six (6) feet of distance between individuals.Community members should wash hands for at least twenty (20) seconds after using restrooms facilities to reduce the potential transmission of the virus.Face mask will also be worn in restrooms.Hand sanitizer will be placed outside of the restrooms.
Recreational and Athletic Venues: Spaces will be evaluated to determine how students can safely exercise while maintaining social distancing. Athletic competitions (both recreational and NCAA Division III) will be determined in concert with NCAA, SUNYAC, and health officials.

Department and Unit Implementation

Supervisors are responsible for implementation of the following modifications to protect the health of their employees.

Offices (double occupancy or more): Space should be accessed to ensure that at least six feet of distance exists between the occupants while seated at their workstations. In instances where the space cannot be reconfigured to accommodate social distancing Facilities Management may be consulted.
Any modifications or physical barrier needs will be reviewed and approved provided by Facilities. A barrier cannot impend airflow, heating, cooling, fire safety systems or accessibility.
In instances where physical distancing is not possible, further corrective action such as schedule changes, remote work, telecommuting, should be considered.
Restrooms (single occupancy): No modifications are required for the single occupancy restrooms. However, the waiting area outside of a single occupancy restroom will be evaluated to determine if signage is required to promote social distancing.
Meeting Spaces: Conduct meetings remotely using existing campus technologies such as Collaborate, Zoom, in-house conference lines (can accommodate six participants), Intercall, the telephone, etc.
Break Rooms and Common Areas: Social distancing and cleaning is the responsibility of those utilizing the space.

Personal Protective Equipment

Face Coverings will be made available to faculty, staff and students on scheduled days at the mailroom. Face covering needs when the mailroom is unavailable can be accommodated by emailing: stayhealthy@purchase.edu.

This procedure will remain in effect until further notice. For questions regarding this policy, please email stayhealthy@purchase.edu. For questions regarding state regulations, please visit New York Forward.

Keep reading

announcement

»




Off-Campus Testing Locations



Face Coverings
Everyone on campus is required to wear a face covering per the state mandate. This includes when outdoors on campus when you're unable to maintain a social distance of more than six feet.
Every staff member will receive two washable cloth face coverings. 
The More Store and Book Store will sell PPE as well.
Wearing a face mask is not required when alone in your assigned residence hall bedroom or campus office or when eating or drinking.
Screening and Testing
All students, faculty, and staff are required to conduct daily health screenings to identify symptoms, including temperature checks.
Upon evaluation by your health care provider, it will be determined if testing is appropriate if you are experiencing symptoms or have had an exposure.
Pooled Testing/Saliva Surveillance Program
The objective of the Pooled Test Program is to provide sensitive, accurate, and rapid feedback about the presence of SARS-COV-2 in saliva samples from individuals on campus. The benefit to pooled testing is the ability to identify asymptomatic cases to facilitate early intervention.
Students will be mandated to submit individual samples for testing. The samples will be combined together in groups of 12 samples. Faculty and staff who are currently assigned to work on campus will be subject to mandatory testing as per SUNY policy and labor agreements. Testing will be offered voluntarily for other campus staff.
Contact Tracing
Contact tracing is the responsibility of the Westchester County Department of Health. The college will have four staff trained and dedicated to contact tracing in close coordination with state and local health departments.
Mental Health
The need for self-care cannot be underestimated or ignored in the face of the challenges of navigating life in a pandemic. Seek help when you need it. Pace yourself and practice mindfulness as you balance COVID circumstances with your performance goals. Be flexible and open to the possibility you may need to slow down or reach out for support. 
Cleaning
Enhanced cleaning and disinfecting is critical to reducing the spread of COVID-19. New procedures in place are in accordance with New York State Department of Health regulations, CDC recommendations, and guidance available from safety and industry associations.
Routine cleaning such as vacuuming, removing trash, or sweeping may be performed less frequently to allow for increased cleaning and disinfecting of frequently touched surfaces including door knobs, light switches, handrails, and public restrooms. 
Shared Cleaning Responsibility
Everyone on campus should use provided disinfectant wipes or spray frequently to disinfect high-touch surfaces in their own work space or shared spaces. This includes instructors and students in classrooms.
Return to Full Remote Operations
The college will monitor for early warning signs of an outbreak that include increasing rates of positive infections and hospitalizations and communicate these data to local health department officials.
In the event that pandemic conditions worsen to the point that all students must return to remote learning at some point during the semester, but prior to Thanksgiving, an adequate transition period will allow for students to return home and for faculty to adjust mode of delivery, the balance of course lesson plans, and course requirements. After Thanksgiving, all instruction will be 100% remote regardless.
The closure of campus residence halls falls under the purview of the President and the President's Cabinet. Upon notification of a closure, the Office of Community Engagement will work with both the Campus Emergency Response Team and Crisis Communications team to provide guidance to students affected by the disruption.
Students will be provided a minimum of 48 hours to vacate the campus. In some cases students will be allowed to store personal items on campus.