Keeping the campus disinfected and sanitized will be a community effort.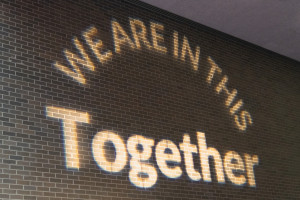 Light projection at The Performing Arts Center, which is serving as a Covid testing site for faculty, students, and staff.
While facilities will concentrate on frequently touched surfaces, individual faculty, staff, and students must be responsible for cleaning and sanitizing their own hands as well as surfaces they touch.
Hand sanitizer will be readily available in all buildings in wall-mounted dispensers, but we encourage community members to carry their own personal hand sanitizer as well.
Preparing to Reopen
Plans to reopen buildings include cleaning and disinfection and restarting ventilation, water systems, and other key components.
HVAC systems will be adjusted to maximize outside air and filters will be evaluated and changed for greater air quality when appropriate.
Non-academic spaces will gradually return to increased use over the summer, with academic spaces anticipated to selectively increase use in the fall of 2020.
CDC guidance indicates that coronaviruses on surfaces and objects naturally die within 72 hours. Therefore, areas that have been unoccupied for three days or more only need normal routine cleaning to reopen.
Signage
Abundant signage will be placed throughout campus to remind everyone about face coverings, maintaining a six-foot distance from one another, and washing hands frequently.
Spaces Exposed to COVID-19
If an individual suspected of having or diagnosed with COVID-19 has been on campus, impacted spaces will close immediately to implement specific and detailed cleaning protocols before reopening.
Academic Learning and Support Spaces
Administrators, faculty, and staff of academic programs will identify all instructional spaces that will be used for face to face instruction, including support spaces such as labs, shops, and equipment loan facilities. Schedules will be shared with Facilities Management so that appropriate cleaning programs can be implemented.
Higher Risk Spaces
Those areas with a higher volume or a higher likelihood of exposure, including Health Services, Physical Education, Fitness Rooms, and Dining Services, will have expanded and detailed cleaning procedures implemented.
Frequently Asked Questions
The priority is to make the current HVAC systems in the buildings as efficient and safe as possible. This includes increased filtration and outside air. The degree to which we are able to modify both depends on the capabilities of the current systems. Facilities Management and Capital Planning will continue to monitor the evolving recommendations and guidance for mechanical systems and react accordingly when appropriate.
All spaces, if being used for their original intent, are designed to meet code in regards to air circulation. The buildings' mechanical systems are monitored via an automated system. If an irregularity is observed, a technician will be dispatched. Individual concerns from members of the campus community can always be submitted via the work order system.
As per the submitted plan, all existing HVAC systems are being analyzed for increased infiltration capabilities. The plan is to use the highest rated filter an individual system can accept while also increasing outside air flow. Wherever possible, MERV -13 filters will be installed.
 The campus will listen to guidance from the State and SUNY and then make decisions best for the safety of the campus community.