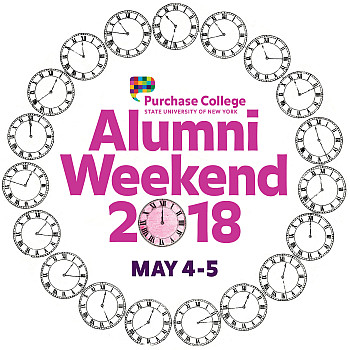 EVENTS
---
Friday, May 4th
6:30pm -
9:00pm

A NIGHT OF REUNIONS
Celebrating the Classes of 2013, 2008, 1998, 1988
and the 40th Anniversary of the Class of 1978 

ALL ALUMNI are invited to the Neuberger Museum of Art for an evening of food, drinks, music and reconnecting with former professors, current faculty, staff, and friends. Dig deep into your closet to find an item from the year you graduated and a picture (to share) of you as a student. Bring both and help us create a life-size " then and now" photo album! Music by DJ Eric Burgos '10 (Sociology).
Saturday, May 5th
8:00am - 10:00am

"PANCAKE MADNESS" WELCOME BREAKFAST AND REGISTRATION
Check-in and get a taste of your favorite PANCAKE MADNESS foods as you reconnect with friends and gather for the day's activities. Features DJ Eric Burgos '10 (Sociology).



10:30am - 12:00pm

SCHOOL AND DEPARTMENT PROGRAMS (CHOOSE 1)
Follow any link below for more information and to sign up for a symposium, design workshop, faculty lecture, alumni presentation, film screening, or any of the other great options that are planned. Programs are open to everyone regardless of major.

PLEASE CHOOSE ONLY ONE PROGRAM FROM THE LIST BELOW PER PERSON IN YOUR PARTY. The programs are during the same time slot. "WORKING," which is later in the day, can be added as a second item. 


10:15am & 11:15am

CAMPUS WALKING TOURS
Bring your comfortable shoes because there's a lot of ground to cover in 45 minutes. These student-led tours will introduce you to the many changes on campus – including our latest construction projects.



12:00pm -
2:00pm

ALL-ALUMNI PICNIC
The traditional barbecue takes an upscale twist with live music, great food, wine, and beer.



2:00pm -
3:30pm

PANTHERS ALUMNI RECEPTION
Former Purchase College Panthers are invited to the Physical Education Building for a cocktail reception. Hear update on our current programs and varsity teams, where we are and where we are going. 



2:00pm -
3:30pm

STUDENT LEADERS ALUMNI RECEPTION
Former student leaders (Ambassadors, RAs, SOLs/SOCs, PSGA, club leaders) are invited to reconnect at a dessert and wine reception in the Library Landing Room on the third floor.

3:30pm -
4:30pm

PURCHASE COLLEGE ALUMNI ASSOCIATION MEETING
All Alumni are welcome to attend. President's Conference Room, STU 3rd Floor. 
OPTIONAL EVENING EVENT
5:30pm

 

 

 

 

 

THE PERFORMING ARTS CENTER (PAC) 40TH ANNIVERSARY GALA
 Featuring a tribute to Tony Bennett by Jessica Lang Dance Company

Options include the pre-performance reception and gala banquet, dance performance, and the post-event Meet the Artists dessert reception.  

This event is not an official function of Alumni Weekend.  Ticket prices apply.

 7:30pm

ANNUAL PURCHASE CARES BENEFIT CONCERT FOR DANCERS RESPONDING TO AIDS

Dancers Responding to AIDS is founded by Purchase College Dance alumna, Denise Roberts Hurlin '84. It's a performance to benefit DRA and Broadway Cares/ Equity Fights AIDS. There will be a variety of different acts by Purchase students from a variety of different disciplines. Held in the Dance Theatre Lab in the basement of the Dance Building.

This event is not an official function of Alumni Weekend.  Tickets are $3 at the door.

For more info: https://www.facebook.com/events/1323642117738049/
---
All official Alumni Weekend 2018 events were absolutely free for participating alumni.
HOTEL INFORMATION
---
The following hotels offered special rates for alumni:
QUESTIONS / MORE INFORMATION
---
You can reach us anytime at alumni@purchase.edu