Work in front of the camera and behind it, practicing your on-air presentations skills!
Grades 4–8

Location: Humanities Building, Room 2034

Work in a team environment to learn what it takes to put in a live TV show on air. Gain experience working in front of the camera and behind it, practicing on-air presentations skills, conducting in-studio interviews, operating robotic cameras, running a Teleprompter, and working as a technical director.

Students use the Purchase College TV Studio
On the final day, students present a sample of their work to an audience of family, friends, and peers.
Students must provide their own video equipment for field production outside the television studio (smartphones are acceptable).
Session II: July 22–26 (one week)
Monday–Friday, 9:30 a.m.–3:30 p.m.
$650 for the first registration
$585 for the second registration in the family, Purchase College employees and alumni, and early registrations (received by May 10, 2019)
For a well-rounded summer, combine this program with Young Artists, Young Photographers, eSports Apprentice - YouTube© Streamers and Gamers, Battle Royale: Make Your First Fortnite® Style Video Game, Young Writers, and/or Web App Creator and Python Programmer to maximize your creative experience.
Discount for enrolling in multiple programs.
About the Instructors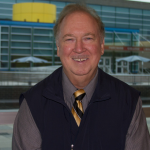 Matt Sampson (co-instructor), a Cornell University graduate, has covered TV news from Pakistan to Panama to Paris. A former anchor for News12, he has extensive experience with international news organizations such as CNN, TVB Hong Kong, and the USA Network. His varied background as a cameraman, editor, sportscaster, reporter, and interviewer enables him to train students to become effective backpack journalists and to meet the demands of this new digital era. Matt believes that you can use video recorders or smartphones and, with some editing knowledge, produce a quality TV news product.