Work in front of the camera and behind it, practicing your on-air presentations skills!
**CLOSED** Grades 4–8

Location: Humanities Building, Room 2034

Work in a team environment to learn what it takes to put in a live TV show on air. Gain experience working in front of the camera and behind it, practicing on-air presentations skills, conducting in-studio interviews, operating robotic cameras, running a Teleprompter, and working as a technical director.

Students use the Purchase College TV Studio
On the final day, students present a sample of their work to an audience of family, friends, and peers.
Students must provide their own video equipment for field production outside the television studio (smartphones are acceptable).
Typical Day
9:30 a.m. to 10 a.m. Beginning of Day Check-In & Warm Up
Each day begins with an introduction to a fun new journalism technique. We will be concentrating our daily schedule in and around Purchase College's state of the art TV studio and control room. We use this group time to ask questions and talk about what we have learned. 
 10:30 a.m. – 12 p.m. New Lesson/Project in Studio
Each student will have a chance to practice and polish the art of the interview every day. Young journalists will get hands on training in the various control room jobs necessary to broadcast a TV interview: directing, producing, remote camera operator, audio board, and teleprompter operator. The budding reporters will start the program by interviewing each other and their peers, and college age teaching assistants. By the end of the session, we will invite various administrators from the Purchase College campus for an in-studio, on-camera question and answer session! This transformation throughout the program is exciting and fun. Students are encouraged by their instructors and shown specific techniques to improve their on-camera presentations. Throughout the program, students develop modern skills, while learning learn about how reporting has changed the world throughout history.
 12:00 p.m. – 12:45 p.m. LUNCH
A 45 minute lunch break with their Teaching Assistants, usually eaten outside to enjoy the beautiful green space at Purchase College. This is a great time to re-charge for the afternoon by relaxing, playing games, and hanging out with new friends!
 12:45 pm – 2:45 p.m. Group Activity & Individual Research Time
After lunch we jump back in as a group to review what we worked on in the morning.  During the remainder of the day students have the opportunity to use the computers in the media lab to research their topics and guests. Students will use this information to write articles that will complement their studio interviews. This is a great time for students to explore their passions and work on what they love.  The instructors will review students' current projects one-on-one, introducing students to positive artistic feedback and suggestions for next steps. The instructors will emphasize the process - always remembering: a "60 Minutes" reporter was not created in a week and this is just the beginning of an exciting journey into television interviewing!
 2:45 p.m. – 3:30 p.m. End of Day Check-In
Journalistic endeavors finish for the day and everyone engages in responsible clean up. We will check in as a group to address any questions or thoughts before heading home for the rest of the afternoon. Ending the day as a group reinforces friendship and community among journalists. 
 Special Instructions:
Parent/caregiver check-in and out their student at designated location in the Humanities Building.
Students must bring lunch, refrigerators available.
Please be sure students come with plenty of water!
The Humanities building is air conditioned; children may want to bring a sweatshirt.
Session II: July 22–26 (one week)
Monday–Friday, 9:30 a.m.–3:30 p.m.
$650 for the first registration
$585 for the second registration in the family, Purchase College employees and alumni, and early registrations (received by May 10, 2019)
For a well-rounded summer, combine this program with Young Artists, Young Photographers, Young Writers, and/or Web App Creator and Python Programmer to maximize your creative experience.
Discount for enrolling in multiple programs.
About the Instructors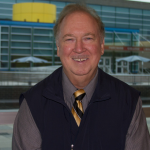 Matt Sampson (lead instructor), a Cornell University graduate, has covered TV news from Pakistan to Panama to Paris. A former anchor for News12, he has extensive experience with international news organizations such as CNN, TVB Hong Kong, and the USA Network. His varied background as a cameraman, editor, sportscaster, reporter, and interviewer enables him to train students to become effective backpack journalists and to meet the demands of this new digital era. Matt believes that you can use video recorders or smartphones and, with some editing knowledge, produce a quality TV news product.