Design, draft, and model a structure or space of your choosing!
Architecture Intensive Photos

 

*FULL* Grades 9–12

To be placed on the waiting list contact us Caren Valente 914 251 6511.

Location: Visual Arts Bldg., Room 1021

Design, draft, and model a structure of your choosing during studio work sessions. Learn how to manipulate space, materials, and style through exercises that focus on drawing and thinking like an architect. Tools of the trade will be introduced and perfected to create the main, individual projects that will be constructed by hand. Architectural drawings will be used to construct a model of your unique architectural design. In addition, a smaller, separate project will be completed using digital computer programs.

The program will culminate in a display of the drawings and models for family and friends.
Typical Day
The aspiring architects will explore the campus's own architecture and sketch on-site with a variety of artistic media (weather dependent, of course!), as well as look at several documentary-style shows about architecture and building.
There will be an hour lunch break that includes time for relaxation outdoors!
A Studio Work Session will follow – each day will build upon the previous day's materials and techniques. During these sessions, the architects will use their knowledge and skills to create their dream structure!
Session Descriptions
Discussion of Architectural Styles
Throughout the course, architects will be presented with examples (documentaries, photographs, sketches, and architectural drawings) of architectural styles from a variety of locations around the world. These sessions will serve as inspiration for discussion as well as to push the edges of their own dream structures.
On-site Sketching around Campus
Each morning, weather permitting, we will explore a different part of campus to look at interior and exterior spaces. The architects will be guided in using different sketching techniques as well as a variety of artistic media (pencil, color pencil, and pen techniques). A small group "critique" at the end of each on-site sketching session will provide a time for sharing ideas among peers.
The technology of Architecture
Architects will be creating a smaller project (often a recreation of a room in their real-life home) through the use of a digital architecture program currently used in the field.
Studio Work Sessions
Afternoon Studio Work Sessions will provide a solid block of time for the architects to begin formulating their ideas for a structure of their dreams. The earlier sessions will be spent brainstorming in small groups and individually, as well as drawing and trying out the architectural tools and techniques that are presented. Towards the end of the first week, the architects will have several drawings of their dream structure that they will use to begin building a model during the second week. The architects will work individually on their own projects while being supported by both their teacher and visiting architects along with their fellow architects – ideas will flow with excitement from one work space to another during these sessions!
*Our daily schedule will be adjusted to the needs of the students as a whole class to allow ample time to complete their models.
Session III: July 29–August 9
Monday–Friday, 9:30 a.m.–3:30 p.m.
$1,200 for the first registration
$1,080 for the second registration in the family, Purchase College employees and alumni, and early registrations (received by May 10, 2019)
For a well-rounded summer, combine with Acting Intensive, Filmmaking Institute, Songwriting Workshop, Vocal Intensive,  Virtual and Augmented Reality Adventures!, and/or Creative Writing Workshop. Discount for enrolling in multiple programs.
Interested in Undergraduate Fine Arts Programs at Purchase College?
Check out the BFA programs in painting and drawing, sculpture, interdisciplinary visual arts, graphic design, and printmaking in the School of Art+Design.
About the Instructor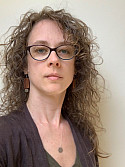 Amy Miller (Lead Instructor) is an artist and teacher/researcher. She holds a MA in Art Education from Teachers College, Columbia University and a BS in Visual Art with a minor in Art History. Amy divides her time between carving stone and working as a Studio Teacher in New York City. Amy has co-taught "Architecture and the City" for middle school students and has taught art courses in varied media in a diverse range of educational settings.