Channel your passion for the news, storytelling, and communicating!
Grades 9–12

Location: Humanities Bldg., Room 2034

Improve your journalism skills and begin to understand how to report in depth and write clear and concise stories that capture an audience's attention. Embrace multimedia journalism (video, photography, and social media platforms), and also learn to use professional editing software (Adobe Premiere), sound recorders, and lighting equipment to properly prepare your photos and video for blogs, broadcast, or print.

 Delve into journalism's role and responsibilities in society and its legal and ethical concerns.

Conduct interviews, write headlines, post stories online, produce feature stories on our other summer precollege programs in the arts, co-anchor television news presentations, and compile video story clips. The news and feature stories and videos that you develop can be used for a college entrance portfolio that demonstrates your writing and communication skills.

Novice and experienced journalists alike are welcome. On the final day, students present a sample of their work to an audience of family, friends, and peers.

Note: Students must provide their own video and photography equipment (smartphones are acceptable).
Typical Day
From writing and storytelling to recording and editing, today's journalists wear many hats. In the Modern Journalism program, students will come away with an understanding of the role of journalists in the field to report in all formats, including print and online as well as video and social media. Although each format is a little different, we will cover the foundation of traditional journalism practice and history. Ultimately each modern journalist will choose an on-campus news story, then interview key people in the community connected to the topic for the end of program showcase.

Mornings*
Each day begins with an introduction to a new journalism technique. Our reporters will learn to research topics online and through print sources. Students will find more information by conducting interviews with experts on the Purchase College campus. During the two week session, students will use their camcorder or smartphone to create a 30 second video piece. From writing short articles and scripts, students will exercise their new skills with their classmates in the state-of-the-art Purchase College TV Studio.

Afternoons*
Students receive hands on training in the various control room jobs necessary to broadcast a TV interview such as the director, producer, remote camera operator, audio board, and teleprompter operator. Reporters practice their on-camera skills in the Purchase College TV Studio by interviewing each other and reading their scripts 'live' in-studio as their 30 second video pieces are shown.

Student Showcase
By combining information from their research and the on-camera interview, students will write short articles for a cumulative Modern Journalists Program newspaper. On the last day of the session, students will present their finished newspapers and TV programs to parents and guests as a celebration of the students' hard work and new knowledge.

*Sessions may vary.
Session III: July 29-August 9
Monday–Friday, 9:30 a.m.–3:30 p.m.
$1,200 for the first registration
$1080 for the second registration in the family, Purchase College employees and alumni, and early registrations (received by May 10, 2019)
For a well-rounded summer, combine with Acting Intensive, Filmmaking Institute, Songwriting Workshop, Vocal Intensive,  Creative Writing Workshop, and/or Virtual and Augmented Reality Adventures!. Discount for enrolling in multiple programs.
About the Instructors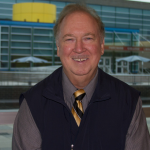 Matt Sampson (lead instructor), a Cornell University graduate, has covered TV news from Pakistan to Panama to Paris. A former anchor for News12, he has extensive experience with international news organizations such as CNN, TVB Hong Kong, and the USA Network. His varied background as a cameraman, editor, sportscaster, reporter, and interviewer enables him to train students to become effective backpack journalists and to meet the demands of this new digital era. Matt believes that you can use video recorders or smartphones and, with some editing knowledge, produce a quality TV news product.