Channel your passion for the news, storytelling, and communicating!
Grades 9–12

Location: Humanities Bldg., Room 2034

Improve your journalism skills and begin to understand how to report in depth and write clear and concise stories that capture an audience's attention. Embrace multimedia journalism (video, photography, and social media platforms), and also learn to use professional editing software (Final Cut Pro, Adobe), sound recorders, and lighting equipment to properly prepare your photos and video for blogs, broadcast, or print.

 Delve into journalism's role and responsibilities in society and its legal and ethical concerns.

Conduct interviews, write headlines, post stories online, produce feature stories on our other summer precollege programs in the arts, co-anchor television news presentations, and compile video story clips. The news and feature stories and videos that you develop can be used for a college entrance portfolio that demonstrates your writing and communication skills.

Novice and experienced journalists alike are welcome. On the final day, students present a sample of their work to an audience of family, friends, and peers.

Note: Students must provide their own video and photography equipment (smartphones are acceptable).
Session III: July 29-August 9
Monday–Friday, 9:30 a.m.–3:30 p.m.
$1,200 for the first registration
$1080 for the second registration in the family, Purchase College employees and alumni, and early registrations (received by May 10, 2019)
For a well-rounded summer, combine with Acting Intensive, Filmmaking Institute, Songwriting Workshop, Vocal Intensive, eSports Apprentice - YouTube© Streamers and Gamers, Battle Royale: Make Your First Fortnite® Style Video Game, and/or Virtual and Augmented Reality Adventures!. Discount for enrolling in multiple programs.
About the Instructors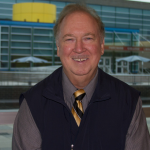 Matt Sampson (co-instructor), a Cornell University graduate, has covered TV news from Pakistan to Panama to Paris. A former anchor for News12, he has extensive experience with international news organizations such as CNN, TVB Hong Kong, and the USA Network. His varied background as a cameraman, editor, sportscaster, reporter, and interviewer enables him to train students to become effective backpack journalists and to meet the demands of this new digital era. Matt believes that you can use video recorders or smartphones and, with some editing knowledge, produce a quality TV news product.