The MFA program in media arts trains students in the progressive, experimental, and participatory forms of creative, critical practice that comprise the cutting edge of contemporary media arts.
Collaboration and Social Engagement
Students collaborate with local communities and galleries to create socially engaged media art that addresses the community's aspirations, concerns, and needs. Through these partnerships, students explore new modes and sites of media creation, exhibition, and reception. The program stresses the value of hands-on creation and collaboration, pairing students with artists and scholars active in contemporary media arts.
Multidisciplinary Curriculum
Our multidisciplinary curriculum encourages students to think beyond medium-specific approaches, providing them with ample elective choices within and beyond media arts. During their first year, students work in a collaborative environment, a directed studio in which students participate in web-based and installation-based media art. These collaborative works prepare students for their capstone project, a yearlong thesis individually supervised by a faculty member.
Immerse, Transform, and Imagine
This graduate program immerses students in dynamic media projects with neighboring communities. Focusing on a process-based model, students come to understand the transformational role that arts can play in communities. By motivating students to imagine futures through research-based art production, the program enables them to work across a variety of media and platforms, an essential skill that will allow graduates to position themselves within the ever-shifting media industry and landscape.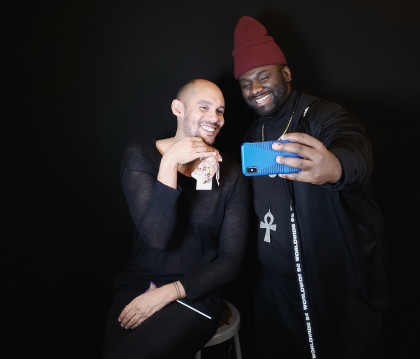 Professor Shaka McGlotten and MFA student Jaleel Campbell are taking selfies during the opening of Palace of the Self Exhibition, Fall 2018