Choose from a range of options to meet your professional requirements.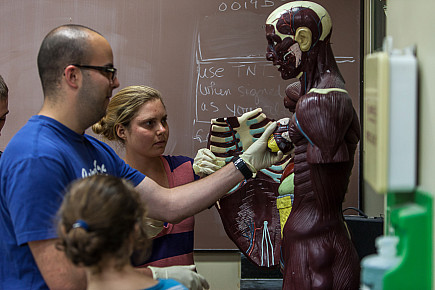 Purchase College is proud to be a NYSED-approved sponsor institution for Continuing Teacher and Leader Education (CTLE).
Courses Offered
Math and Science Modules
The Three Dimensions of Science Learning
There are three distinct and equally important dimensions to learning science. These dimensions are combined to form each standard or performance expectation, and each dimension works with the other two to help students build a cohesive understanding of science over time.
Crosscutting Concepts help students explore connections across the four domains of science, including Physical Science, Life Science, Earth and Space Science, and Engineering Design.
Science and Engineering Practices 
Science and Engineering Practices describe what scientists do to investigate the natural world and what engineers do to design and build systems.
Disciplinary Core Ideas (DCIs) are the key ideas in science that have broad importance within or across multiple science or engineering disciplines.
Next Generation Science Standards
Work with our team of faculty to create Next Generation Science Standards (NGSS) / SLS-aligned lesson plans.  Take the NGSS concepts back to your classroom.
15-hour CTLE modules are delivered through 10 hours of online self-paced review plus 5 hours of blended / online virtual symposiums with our faculty.
Courses are blended and provided via ebook with:

animated videos
self-assessments
assignments
formative and summative assessments
regular virtual meetings with faculty
---