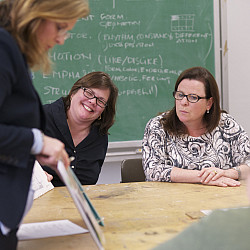 For novices and those with experience, this certificate program has been expanded to offer more hands-on training and practical information to prepare you for the real world of interior design. Upon completion of this program, you may qualify to work in design (interior, lighting, drapery, etc.) firms, furniture stores, and more! Please note that this noncredit program does not satisfy NCIDQ, ASID, or CID eligibility requirements.
Earn your certificate in as few as four semesters. Students may take courses individually without commitment to the entire program. Students who successfully complete the required courses and elective course hours are awarded a certificate from the School of Liberal Studies & Continuing Education, reflecting 25 continuing education units (CEUs).
Note: Certificate programs must be completed within four years unless approved by the director of continuing education. Students who began their coursework before the 2015–16 academic year should refer to previous certificate requirements (PDF).