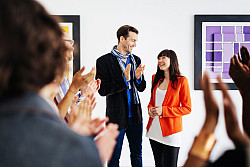 Established in 1985 as a credit-bearing program and online since 2010, the certificate program in arts management was the foundation of one of the most popular and respected undergraduate majors at Purchase College. Now offered entirely on a noncredit basis, this certificate program is designed to provide students with an understanding of management, marketing, arts and entertainment law, and funding for arts-related organizations.
 It is particularly suited for:
new arts administrators who want to broaden their knowledge and skills.
professionals who are considering a career transition to arts management.
artists who are interested in starting their own companies or joining existing organizations.
board members and volunteers who want to become more informed and effective.
Earn your noncredit certificate in as little as two semesters. Students may take individual courses without commitment to the entire program. All courses are normally offered online. Students who successfully complete the four required courses are awarded a certificate by the School of Liberal Studies & Continuing Education, reflecting 24 continuing education units (CEUs).
Note: Certificate programs must be completed within three years unless approved by the director of continuing education.