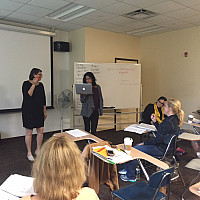 Purchase College is proud to partner with the American Society of Appraisers (ASA) to offer the appraisal studies certificate program. Develop the skills necessary to build a career in the appraisal of personal property and the collecting of fine art, decorative art, antiques, furniture, jewelry, coins, stamps, and more. Through lectures, optional field trips, and the use of the college's Neuberger Museum of Art—among the 10 largest university museums in the country—learn the history and skills necessary to appraise and/or collect a wide range of items with assurance and competence.
Take courses individually or earn a certificate by completing all certificate requirements. All required courses are taught by accredited senior appraisers. Students who successfully complete the four required courses are awarded a certificate by the School of Liberal Studies & Continuing Education, reflecting 13 continuing education units (CEUs). Upon completion of the certificate, you will have taken the first step toward (a) becoming an appraiser or working as an appraisal expert in a gallery, auction house, or insurance company and (b) qualifying for eventual accreditation and membership in the ASA.
Note: Certificate programs must be completed within three years unless approved by the director of continuing education.
FAQ
Appraisal Studies FAQ
Q. What knowledge does an appraiser need to possess?
A. An appraiser needs to be knowledgeable in three areas: subject property (connoisseurship)—what you are appraising; the markets in which the property sells (and which ones are applicable for what assignment); the principles of valuation (types of value, approaches that are accepted by the profession, professional standards and ethics, what needs to be in an appraisal report, etc.).
Q. Am I ready for accreditation when I finish the Appraisal Studies courses at Purchase College?
A. Likely not; however, you can move quickly to prepare. The courses provide you with a strong foundation in valuation theory and appraisal practice methods—as well the legal and regulatory requirements for what needs to be included in an appraisal report.
Q. What is the process to become an accredited appraiser?
A. For information on becoming a designated appraiser with the American Society of Appraisers, please see ASA's Quick Guide to Accreditation.
Q. Can I be an appraiser without accreditation?
A. Yes, although more and more insurance companies are asking for "accredited appraisers." To do appraisals for the IRS, appraisers must meet the current IRS guidance, which defines "qualified appraisers" as having education and experience. The regulations say that one way for an appraiser to show that they are qualified is through designation with one of the major professional appraisal organizations (VPOs).
Q. My background is academia (art history). What will I get from these courses?
A. You will gain an understanding about the principles of valuation and appraisal theories that are used today in the appraisal profession through the courses included in this program. In addition, your classroom work will provide you with direction as you expand your knowledge into the markets that you will research to complete your appraisal assignments. Your academic background has provided you with a strong foundation for your understanding of the property itself, and that will prove invaluable to you as you continue to develop your own connoisseurship.
Q. I'm a dealer. What will I get from these courses?
A. You will learn about valuation theory and acceptable ethical and procedural practices in the appraisal profession. You will learn there are many different layers of markets and which ones need to be considered in your assignments.
Q. I do not have a strong background or knowledge about any particular type of property. Can I be an appraiser?
A. Yes. You should begin with residential and general contents appraising (regular kitchenware, dishes, household furniture, televisions, etc.). As you learn more about properties and what needs to be appraised, you may expand your appraisal practice, going through the accreditation process in other areas that you find of interest (i.e., Oriental rugs, fine art, textiles, militaria, etc.). Many appraisers have multiple specialties.
Q. I'm a collector and want to increase my knowledge about appraising. What will I get from these courses?
A. These courses will give you valuation principles that will add to your knowledge of how property is valued in the appraisal world. These courses will provide you with an understanding of markets and research methods for your own collection.
keep reading »