A  cultural immersion program designed exclusively for Chinese students to come to Purchase, learn about Western arts and culture, and study various arts disciplines.
Participants in the program spend 18 weeks in the New York City Metropolitan area studying Western arts and culture through the direct study of the English language and arts instruction. The objective of the program is to give Chinese students an understanding of the philosophy and methods of the arts in Western European especially American context through the English language and additional arts fields.

AAP-Purchase项目是中国高校艺术学科师生海外交流计划与纽约州立大学帕彻斯学院合作专为中国艺术学科学生定制的为期18周的课程学习计划。就读学生将在纽约市大都会区通过学习英语课程和三门专业课程体系之一:设计,电影,或音乐课程体系,以了解西方艺术和文化。该项目旨在通过英语和专业领域课程的学习让中国学生了解西欧尤其美国艺术的哲学论和方法论。

 All concentrations take four core courses

English Language

Western Arts Seminar

Arts in the City

Performance or Film/Design Studio

In addition, students choose 3-5 master classes in various art forms including design, film, music, and dance. 
CORE COURSE I: English Language [51 hours]
Effective communication in English through speaking and writing are key to the success of artists and designers in the United States, and most other European countries. This ESL component of the Arts Abroad program builds on students' current English language proficiency to prepare them for success in their specialty classes, the College and the local community, and, in an increasingly global society, their careers.    In order to facilitate their transition to an English speaking environment, at the beginning of the program, students participate in 20 hours of course time per week. 
有效的英语沟通(口语和写作)是美国和大多数欧洲国家的艺术家和设计师取得成功的关键。中国高校艺术学科师生海外交流计划与帕彻斯学院提供的英语语言课程根据学生当前的英语语言能力制定教学难易程度,不仅为学生理解英语教学的专业领域课程做准备,更为以后在日益全球化的社会中工作取得成功做准备。为了使学生尽快过渡到英语语言环境,学期前两周每位学生须参加每周20课时的英语语言课程学习。
Classes are student centered, interactive, and taught by highly qualified instructors in a friendly, supportive environment.    The ESL program includes:
英语语言课程的授课教师为帕彻斯学院的语言老师,课堂以学生为中心,注重课堂互动。课程包括:
Assessment of each student's level of English language proficiency
评估每个学生的英语水平
Placement in the appropriate level for each skill area
安排适当的专业领域英语语言教学
Classes in:
课程内容涵盖:

Communication Skills (listening/speaking)
英语沟通技巧(听/说)
Grammar
英语语法
Vocabulary Development
英语词汇拓展
Writing
英语写作
American Culture
美国文化
Campus Community & Classroom Culture
美国校园社区文化和课堂文化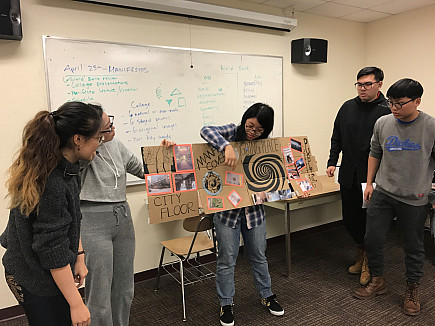 CORE COURSE II: Western Arts Seminar [51 hours]
核心课程2:工作坊 - 美国艺术、历史与文化简述[50课时]
This interactive, student-driven course offers an introduction to 20th and 21st century American art, design, film, theater, and music. Rather than serve as a comprehensive survey, the course uses key American artistic moments, works, and figures to introduce students to fundamental aspects of American history, politics, culture and identity. Students develop their individual artistic practices by completing group projects and a final assignment that responds to their exploration of American culture in their chosen artistic medium.
西方艺术工作坊课程主要简述二十世纪和二十一世纪的美国艺术,课程内容根据学生专业情况将涉及平面设计、电影、戏剧和音乐方向。该课程将从美国的重要艺术时刻,艺术作品和艺术家展开来讲解美国历史、政治、文化和特征的基本方面。学生将通过完成他们所选择的艺术媒介(平面设计 ,电影,音乐,戏剧)的小组项目和大作业,提升他们的个人艺术实践能力。
CORE COURSE III: Arts in the City [34 hours]
核心课程3:城市艺术鉴赏[30课时]
This course is conceived as a co-requisite with The Workshop and helps students build their English-language vocabulary and skills in critical engagement with art, performance, film, dance, and design.  Students will explore how to engage with artistic work in a detailed, thorough way that synthesizes research, articulation of personal taste, and rigorous observation.
With several site visits to galleries, museums, and performance venues throughout New York City, the course will serve as a bridge between classroom learning and New York's unparalleled cultural and artistic scene. Students will participate in lectures, group presentations and class discussions to prepare them to fully engage with the work they encounter during class trips, and each visit will be followed by a debrief discussion to give students an opportunity to reflect on the work and how it may connect to their own artistic practice. 
本课程与工作坊皆为帮助学生提升与艺术,表演,电影和设计的相关的英语词汇和技能。 学生将通过综合研究,阐述个人品味和严格观察这样详细与全面的方式探索如何从事艺术工作。
通过对纽约市各地的画廊,博物馆和表演场地进行实地考察,即艺术游学该课程将作为课堂学习与纽约无与伦比的文化艺术场景之间的桥梁。 游学之前学生将通过课堂教学,小组演讲和课堂讨论充分了解实地考察的艺术作品,每次游学过后都会进行简短的讨论,以加深对艺术作品的理解和提升如何联系自己的艺术实践的领悟。

CORE COURSE Ⅳ: Studios [34 hours]
The studios serve as a home base for students to unpack what they are learning in their master classes and make connections between various art forms.
这些工作室为学生打开他们在大师班学习的东西提供了一个基地,并在各种艺术形式之间建立联系。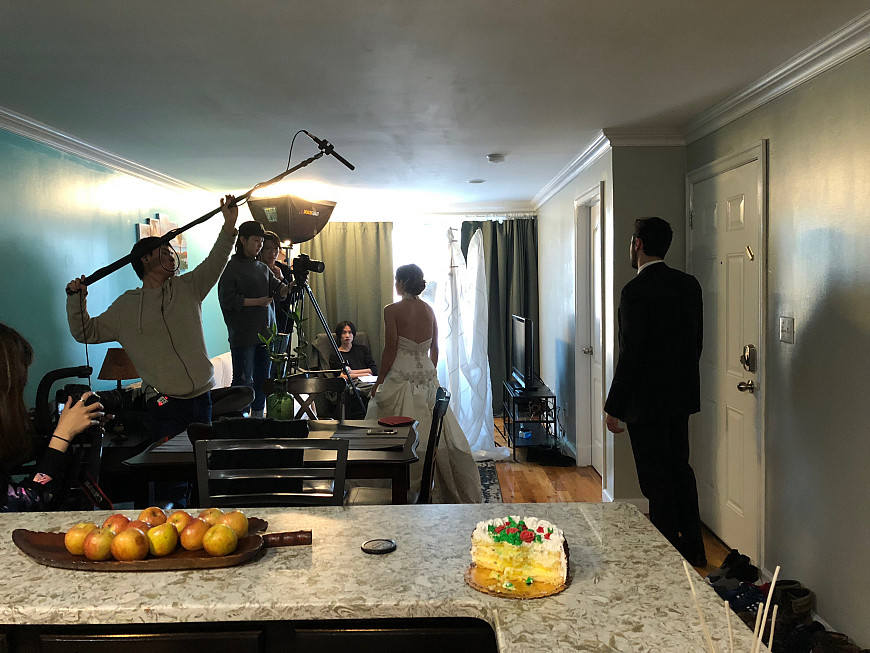 Master Classes [34 hours each]
Each student will register for 3-5 master classes in disciplines including design, film, music, and dance. Past master classes have included:
Graphic Design
Digital Media for Designers
Film Production
Screen Direction
Vocal Performance
Music Composition
Performance Art
Ballet
American Modern Dance
Hip-Hop Dance and Culture